Where Will You Be 5 Years From Now?
Gary will be personally presenting at these events.
Simply complete this form to reserve your seat.
Rewire Your Brain For Lasting Change
Attend This FREE Event & Learn Proven Strategies On:
How to quickly MASTER the two things – the only two things – that will supercharge you with the desire and motivation to succeed at anything! When you're equipped with these two things, there's truly nothing that can stand between you and achieving your most cherished goals.
Why it's not merely enough to change your beliefs if you want to achieve enormous, sustainable success... and what you MUST change instead!
The real reason 99% of affirmations completely fail. Plus, the truth about using them to realize your deepest desires.
How to put your past where it belongs - in the past. This is the quickest and easiest way to tap into the freedom you need to enjoy success.
Why your feelings of success can immediately change to "failure mode" and how to instantly get yourself back into "success mode". I've seen this knock countless successful people to their knees. Learn how to do this and enjoy the peace-of-mind that comes from knowing your success is built on a solid, unshakable foundation.
And much more...
More Reasons Why You Should Reserve Your Seat And Attend!
This Book Is Free To All Attendees
While Supplies Last
All Registrants will Receive Gary's


FREE BONUS GIFTS
How To Make Your Thoughts Disappear
Success Online Video Series
Promotional Items Made Possible by
Sandals Resorts International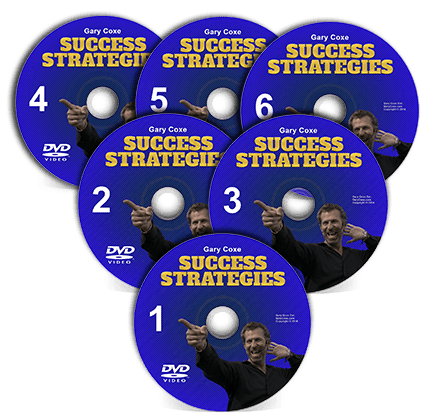 Video Series Digitally Delivered
Watch Anytime
Gary has been featured in magazines such as Success, Selling Power, Network Marketing Lifestyle Magazine, Sales and Marketing Management, The Enquirer, and Networking Times.
However, he does not consider himself a motivational speaker, even though he is a powerful motivator. He believes that people do not want to get pumped up for just a short time, but that they want to learn how to stay pumped for life. It is Gary's earnest desire to teach others how to condition themselves for ultimate success as he shares his self-mastery techniques.
When he's not traveling to seminars he likes to take time and unwind in the Caribbean with close friends and family. He is very fortunate to be able to fly himself to his speaking engagements, which gives him the ability to manage his schedule and maintain the pace that he does.
He has accumulated nearly 6,000 hours of flight time. He enjoys flying everything from Lear jets to helicopters, and, He is a certified flight instructor in both airplanes and choppers. Who knows? Maybe one day he'll get to take you flying to the Caribbean or to one of his events. It's truly Beyond First Class!
You CAN Have The Success You Desire
You've seen or heard of others who've already achieved the life they want for themselves. But how did they do it?
This event is a date with destiny. Will you miss an opportunity that's knocking on your door? During this powerful, two-hour program, I'll help you create permanent change through specific, step-by-step processes that will enable you to achieve the success you've been dreaming of in any area of life!
During this program I'll hold nothing back. I'll provide you with the tools that (if used - not just learned) have been proven to improve your personal and professional life, along with the lives of those you love. Don't miss this opportunity!
Simply complete this form to reserve your seat.
WHAT LEADERS ARE SAYING ABOUT GARY COXE
Gary's thought process is one to admire and to achieve. Handling big business means changing your mindset, and Gary leads the way.
Gordon 'Butch' Stewart
Gary has developed an uncanny ability to take people to the next level, whether they want to improve their life, their sales or their business. Gary definitely has it figured out. Well Done!
Harvey MacKay
Gary offers rich advice for anyone who wishes to succeed in spite of his or her failures. His simple steps may be all you need to make your dreams become a reality. Here's to the good life! Cheers!
Robin Leech
Everyone talks a great game but Gary delivers! Gary Coxe is not only a rare pro at what he does but a rare pro at how he does it. With Gary, you get action that leads to production, change & progressive results… What more could you ask for?
Bill Whittle